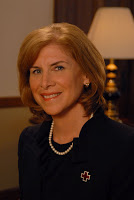 Though she won't start until June 23, I'm already excited. Why? Because of this one little line in the announcement:
"Currently, she is a member of the faculty of Harvard Business School, teaching marketing in the MBA and Executive programs."
Sure, Gail has done tons of other things — co-chairing a Johns Hopkins University fundraising campaign, being recognized by Fortune Magazine as one of the most powerful and influential women in corporate America, and holding top managment positions at AT&T and Fidelity Investments.
But for me, the big news is the marketing connection. I happen to be a little biased, but I truly believe that people with these skills are good communicators, know the value of building personal relationships and are diplomatic, savvy and forward-thinking. All qualities that I'm certain Gail will possess as our new CEO!
P.S. One other fun fact about Gail…when she was 9, she was asked to write a paper on a famous American/hero. Who'd she pick?
Clara Barton
, of course!