More on Apartment Fire Safety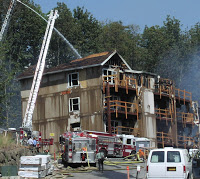 Just a follow up to my post yesterday. The Oregonian gave a verbal smack-down to the city about its lax fire inspections. And because I just have to mention preparedness again, here's a motivational tidbit from the article: 
People are more likely to die of fires in places where they cook and sleep than where they work or shop, according to the National Fire Protection Association.
By the way, have you answered the poll in the right-hand sidebar yet? Only 3 days left to vote!