Wildfire Season Starts Early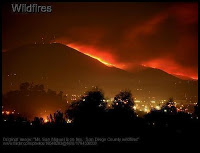 Even though it's still April, wildfires have begun in California.
The most recent one is near Los Angeles and already about 550 homes have been evacuated.
Here are some tips that you should know to be prepared for wildfire season. Also, if you have friends or family that have had to evacuate, you might check for them on the Safe and Well Web site — a free resource where people can register and let their loved ones know they're okay.
Photo courtesy of mcmanagement.