Who says you can't learn from cartoons?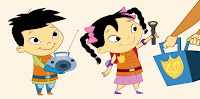 I guess today is a cartoony day. I just happened upon Lou Lou and Safety Patrol. It's a cute, Disney Channel cartoon for younger kids that's all about – you guessed it – safety. Click here to watch a few short cartoons including one on how to build an emergency kit! 
It reminds me of
SeeMoore's Playhouse
. Another excellent kids' show about safety. (With expert advice provided to the writers by the Red Cross.) Click
here
to watch SeeMoore.