Saving and Rebuilding Lives through Transportation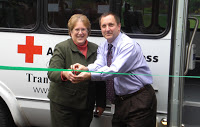 Last year, 1,700 low income seniors and people with disabilities depended on us to get to their doctor, pharmacist, physical therapist or to the grocery store (ready for this?) almost 38,000 times. That's the number of trips we provided in Multnomah, Washington and Clackamas counties.
I just got back from a senior center in Beaverton, where I cut the ribbon on our expanded transportation program in that city. Joining me was Elaine Wells (at left in photo), Executive Director of Ride Connection, the regional special needs transportation agency we contract with to provide services. Over a year ago, Elaine and her team told us there was a tremendous need for more services in Beaverton, and asked if we'd consider expanding in that city. We jumped at the chance.
"Giving the gift of mobility" – that's Ride Connection's tag line. What a great way to help save or rebuild a life.