How Portlanders Can Help China Relief Efforts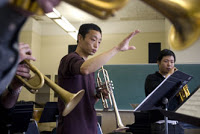 As China continues to deal with the lasting impact of the recent earthquake, Oregonians are stepping up to ensure that funding for relief efforts continues. Here are a few weekend activities that sound fun and benefit Red Cross efforts in the region:
ART SALE:
Chinese American artists Zifen Qian and Jack Lu are holding a special art sale on Saturday, May 31 from 3 to 7 p.m. The sale, sponsored by the Chinese Friendship Association of Portland, will be held at Portland State University's Multicultural Center, Smith Hall Room 228. Bidding will start at just $20; a bargain for art.
YOUTH CONCERT:
A youth musician concert — coordinated by Bob "Woody" Woodward — will be held at The Old Church, 1422 SW 11th, on Sunday, June 1 at 1:30 p.m. Admission is free, but donations are encouraged.
CHAMBER MUSIC CONCERT:
The Portland Columbia Symphony Orchestra, Oregon Ballet, Oregon Symphony and the Portland Opera are sponsoring a relief concert on Sunday, June 1 at 4 p.m. The event, held at the First United Methodist Church, 1838 SW Jefferson St., will feature brass chamber music and a slideshow depicting the aftermath of the earthquake. Admission is by donation.
This last concert is coordinated by Jay Chen, instructor of trumpet at Willamette University and principal trumpet with the Portland Opera. He is a native of Chengdu, from the Sichuan Province of China, 50 miles from the epicenter of the earthquake. He has been watching the images emerging from China and said, "I have never cried so much in my life."
If you'd like to read more about Chen and why he feels these efforts are so important, check out the article in today's Oregonian and yesterday's Statesman Journal.

(Photo by Leah Nash / The Oregonian)