Portland Chinese Times Donates $29,000 to Relief Efforts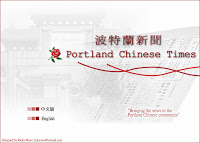 I also wanted to send a quick thank you to the readers of the Portland Chinese Times. I wasn't familiar with this publication — it's all in Chinese, so it would be difficult for me to be a reader — but I'm stunned by their generousity.
All told, they have delivered a stunning $29,000 towards Red Cross relief efforts in China. We are honored to have made this important friendship with Portland's Chinese community, even if it came out of such tragedy.