The Oregonian Redeems Itself!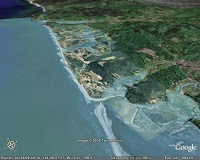 Just about a month ago, I took The Oregonian to task for warning readers about the importance of being prepared while directing them to absolutely no resources to actually go out and do it.
After today's editorial, I am prepared to dish out compliments instead.
Doug Bates (who I really like, by the way), spent the day in Lincoln City, observing a coastal tsunami exercise. Things apparently went well for the experts, but Doug left with some concerns about how ready typical Oregonians and tourists would be if a tsunami really occurred.
While the hotel where he was staying did have tsunami and earthquake preparedness tips as well as a map of the city's inundation zone, they weren't particularly easy to find. And Doug was searching — would a tourist even stop to browse through the guest directory in a major disaster?
More from the editorial:
On any given day, he determined, the inundation zone along all seven coastal
counties contains more than 22,000 residents, about 15,000 workers and nearly
54,000 day-use visitors to coastal state parks.

Scientists with the Oregon Department of Geology and Mineral Industries say there's a 10 percent to 14 percent chance of a catastrophic quake and tsunami happening in that zone within the next 50 years.
But as fascinating as I found the editorial to be, I was much happier to see this sidebar, filled with tips that Oregonians could (and should) use to get ready for when — not if — our state is hit with such a disaster.
THANK YOU, Doug. And thanks to The Oregonian for giving readers a good story as well as a strong call to action.