Pairs Picked for U.S. Open Fantasy Golf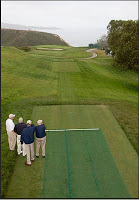 Are you watching the U.S. Open golf tourney? If you lived in the Astoria area, you'd be deeply embroiled in the competition, if only because there's a chance of winning a $1,000 jackpot.
Basically, it's "fantasy golf." You buy a ticket for just $50 and get paired up with one of the pros. If your pro takes home the trophy, you win some cash. And, of course, all the dollars raised go to support the work of the Oregon Trail Chapter's Clatsop Service Center.
Anyway, the match-ups were announced last night and Jeff Canessa's the lucky duck who's paired up with #1 ranked Tiger Woods. Northern Star (which I am assuming is a company vs. just a really awesome name) got #2 Phil Mickelson and Sheila Stickel got Burberry-sporting Adam Scott at #3.
But of all the non-pros, I'm only jealous of Frank Shcuka. That's because he's matched up with MY golf fantasy…Ian Poulter!