Live Music, Beautiful Setting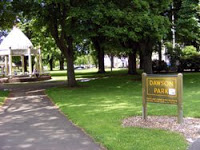 With all that's been going on, I completely forgot to blog about the free summer concerts in Dawson Park.
The park, located at N. Stanton and Vancouver Ave. (and just steps away from our office), will host an impressive array of Portland bands every Wednesday evening in July. There are also hands-on art activities for kids, food vendors and informational tables, including one hosted by us.
Here's the schedule for the remaining events. Concerts start at 6:30 p.m.; activities for kids start at 6 p.m.
July 16 — Patrick Lamb (R&B/soul)
This evening also features the unveiling of the new Dawson Park gazebo at 6 p.m.!
July 23 — Aguamiel (salsa)
Having worked at Legacy Emanuel Hospital for seven years — which is also right across from the park and a sponsor of these events — Dawson Park and I have a lot of history. It's a great space and these summer concerts are a really positive neighborhood activity.
For more information on the summer concert series, happening in other parks around Portland, click here.