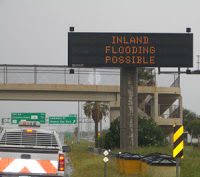 Victoria, our staffing hero, has been busy today. This morning, I got the heads up that we're sending six more volunteers off to help with the response to Hurricane Dolly. The new volunteers that are heading to San Antonio are:
Vicki D.
Judith D.
Kurt K.
William P.
Robert P.
Michael R.
I'm particularly excited about Judith's job — she's going to be working as a Spanish-language caseworker, helping clients get the assistance they need. I don't know that I've seen us deploy someone who will be using their foreign language skills before.
Buena fortuna, OTC volunteers!