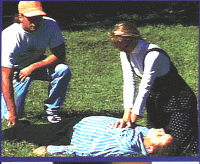 It was warm and sunny in Sheboygan, Wisconsin, the small city known for its German heritage and bratwurst sausage. Fifty-one-year-old Jim Pausha decided it was time to mow his lawn. As Jim puts it, "After a while, I didn't feel good, so I decided to rest under a tree. That's the last thing I remember until I woke up at St. Luke's Hospital in Milwaukee."
The part that Jim can't remember is the dramatic fight to save his life after sudden cardiac arrest (SCA) stopped his heart.
A neighbor across the street noticed Jim lying on the grass and called Jim's son (who was in the house, unaware his father was unconscious right outside). Thankfully, Jim's son knew two key things that would save his father's life: call 9-1-1 immediately, and begin cardiopulmonary resuscitation (CPR). Jim was lucky on another count.
The Sheboygan Fire Department was only two or three blocks away from his home. Lieutenant Donald Reznichek remembers that afternoon. "We received the call of a man down in the front yard. It took us only about a minute to arrive, but there was already a crowd of concerned citizens around the patient. I saw someone performing CPR, and recognized him as a young man I knew from coaching wrestling years before. Although he knew what to do, and was doing a good job oxygenating the blood, he looked at me…and I could see the terror and fear in his eyes."
Fire Equipment Operator Mike Groh remembers Jim Pausha. "He had turned blue, and was not breathing. It's my job to set up the defibrillator, and place the pads on the patient's chest. All I can say is, I'm glad we had the machinery to help. With only traditional CPR, Mr. Pausha would have been past the critical six- or seven-minute window by the time the ambulance arrived." Lt. Reznichek and his team had to deliver only one lifesaving shock with the defibrillator, and Jim gained his second lease on life that day.
He spent the next five days at St. Luke's Hospital, where he was treated and released. "Those kinds of calls you don't forget," said Lt. Reznichek. "It's really…emotional." Jim is back at his job as a lift truck operator, plays golf occasionally, and still mows his own lawn.
Similar stories can be found at Chain of Survival

CPR — Know it, Save a Life
(photo CPR by save-a-life-training.com )