Cross Blog vs. Water Blog: It's a BLOG-OFF!!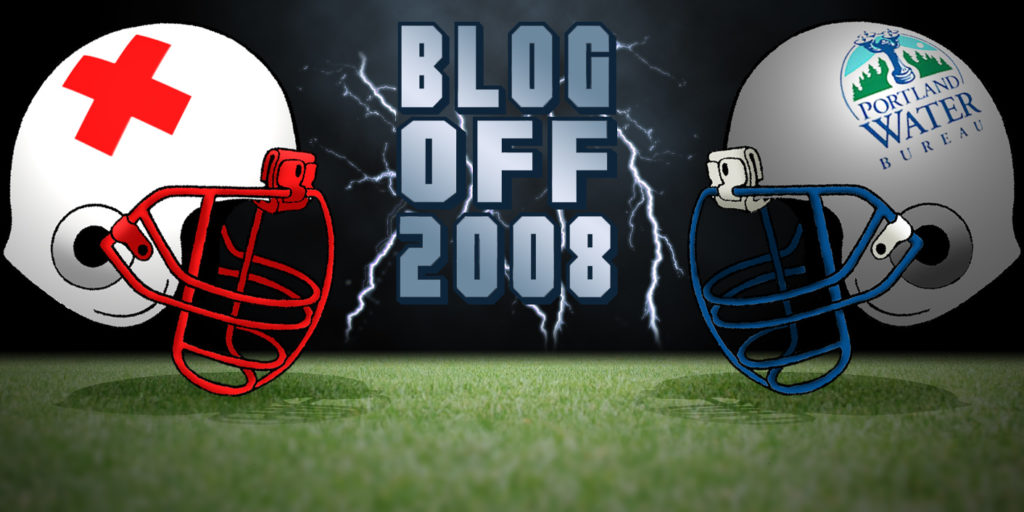 Remember how I told you that the City of Portland's
Water Blog
is our biggest competition? How every reporter that ever gives Cross Blog props totally has to mention them in the very same breath? And how every night I dream about how we'll prove to be the better blog, waking up in a cold sweat? Okay, so maybe I haven't mentioned that last one, but I assure you, it's true.
So one day, Robin and I were sitting in my office, chatting about blog stuff and the Water Blog came up (again). It was at that point that brilliance struck, as it often does around the Red Cross. "Yes," we said. "We will challenge them to a BLOG-OFF!!"
Moments later, we threw down the gauntlet, challenging the two Water Blog gals to a meeting of the minds. We'd plan for a week of blogging gymnastics (not coinciding with the Olympics, though that would have been brilliant, no?), invite our biggest media fans to pick the daily challenges and then let YOU, dear readers, decide the victor.
Whether our moderators — Corey Pein at the Willamette Week or Amy Ruiz at the Portland Mercury — make us create a Top 10 list or force us to use five words of their choice in one post, the only rule is that every post in the competition must relate to our organization. I mean, this is Cross Blog, after all.
So stay tuned and get your comments ready. The Blog-Off begins on August 18 and lasts all week. And though we think we'll clearly win, we're not ashamed to ask for your voting assistance. Whether you're at NHQ, down in blood services, at other chapters around the state or are an Oregon Trail Chapter volunteer or employee, be prepared to help us out.
Reading our blog could save your life. The Water Blog is just all washed up.
P.S. Amy at the Merc has already done a post which has a poll to decide the early favorite. You've heard it before…vote early, vote often!