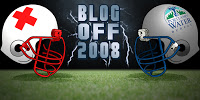 For those of you coming to our blog for the very first time thanks to the Blog-Off!, I thought I'd point you in the direction of some of our favorite posts from the last month or so. This should give you a sense of why we CLEARLY deserve to win.
Monkeys: Be Prepared For Anything
Gored By A Bull? The Red Cross is There
A Friend is Drowning — What Do You Do?
CPR Romance, Take Two
It's a Map-stravaganza!
About Neutrality
P.S. We've already won awards for our blog and kudos from some VIJs (Very Important Journalists), so what are you waiting for? Join in the early voting already!