Providing Support in Gearhart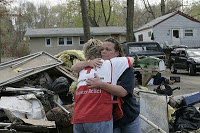 Yesterday, tragedy struck along the Oregon coast, when a rented plane struck a rented house in Gearhart. Five people, including three children, were killed.
A situation of this magnitude in a town so small can cause a wave of shock and horror, touching every resident. And this is where an organization often thought of for responding to natural disasters can step in and help.
You might not know this, but many of our Oregon Trail Chapter volunteers are licensed mental health professionals and social workers, ready to provide emotional support no matter what tragedy might unfold. They can provide a shoulder to cry on, a warm hug or just an ear to listen.
In Gearhart, Red Cross volunteers went door-to-door yesterday and will be going out again today to offer people the support they need. And by "people," I also mean the responding firefighters, who surely don't see this type of tragedy every day. If needed, we're prepared to house the families of survivors as well.
It's not every day that we get to talk about the importance of disaster mental health…we only wish it weren't under these circumstances.
You can find out more about how the Red Cross has provided mental health services in previous disasters here and here.