Red Cross Humanitarian Efforts Ongoing in Georgia Region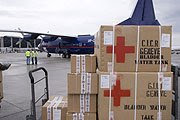 If you hadn't already heard, the American Red Cross is contributing $100,000 to the International Committee of the Red Cross (ICRC) efforts to aid many who were injured or displaced as a result of the conflict in Georgia.
Initial support will go to help extend the relief work of the ICRC on the ground, while additional response options are evaluated. Since Georgia is a conflict zone, the ICRC will take the lead in humanitarian response for the International Red Cross and Red Crescent Movement.
The priorities of the ICRC are:
Distributing emergency assistance to affected people, especially those displaced by the conflict.
Getting access to safe drinking water, sanitation facilities, food and other basic items such as blankets and buckets.
Gaining safe and unimpeded access to all areas affected by the conflict, including South Ossetia.
Providing medical assistance to the war wounded.
Gaining access to all persons arrested or captured in connection with the conflict.
In addition to providing medical and emergency relief, the ICRC is assessing the tracing needs of people who have lost contact with their loved ones. ICRC staff members have met with a number of civilians who are anxiously trying to locate their relatives and will work to restore links between separated family members.
For some commonly-asked questions, check out the ICRC website.