Question Of The Day: Are You Doing Cooling Centers?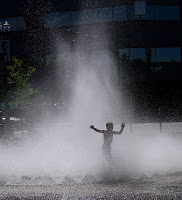 I've had the same question from a few media folks this morning, so I thought I'd respond to it here, just in case any of you were wondering…
Q: I know the Red Cross did emergency warming centers in the winter; are you going to do emergency cooling centers today?
A: We aren't, though it's a great way to save lives, especially for seniors.
When the City of Portland asked us to do the warming centers, we signed a contract for all the winter months. It was a very unique partnership, but gave us a great opportunity to put our mission into action in a new way.
To my knowledge, we didn't discuss cooling centers, though I imagine with enough requests, it might be something the City looks into for the future. Even so, that doesn't necessarily mean that the Red Cross would be the one setting up these centers.
In any case, the City of Vancouver is doing cooling centers. You can see more about them here.

Photo courtesy of Black Dog Photography