Levitron Employees Invite the Red Cross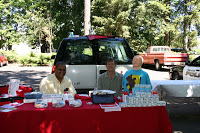 Recently Reg Hendrix, Eldon Lampson and a special companion (pictured from left to right) were invited to the Levitron company health and safety fair. There they met with employees and discussed emergency preparedness, CPR and First Aid classes, and information on blood donation. There were also first aid kits, disaster kits and CPR supplies on display and for purchase.
The day was a perfect Portland summer afternoon, the employees were very welcoming and many great discussions ensued. Levitron has been a wonderful partner, offering CPR courses to its employees and sponsoring blood mobile drives, and we look forward to continue work with them in the upcoming year.