Blog-Off 2008: Musharraf Gives Up Red Crescent Presidency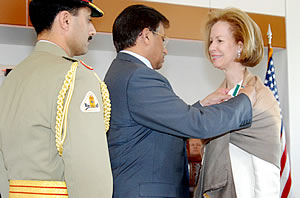 Cross Blog is never one to shy away from hot topics. And today, thanks to our Blog-Off moderators, we've been asked to comment on the breaking news of the day – the resignation of Pakistan President Pervez Musharraf.
Not only is Musharraf giving up presidential duties for his country, he's also leaving behind another post…one that's much closer to the hearts of Red Crossers around the world. As of this morning, Musharraf is no longer President of the Pakistan Red Crescent Society (PRCS).
You read that correctly; the President of Pakistan, as per the Constitution of PRCS, is also the President of PRCS. While the President isn't responsible for day-to-day decision-making, he IS responsible for nominating a Chairman who, with the help of a "managing body," runs the affairs of the society. You can see more about the PRCS structure right here.
But while PRCS and the American Red Cross (ARC) are both national Red Cross societies, our governance is far from the same. For example, George W. Bush is not the American Red Cross president…in fact, we're not a government agency at all.
Still, there are some international similarities. Here's a quick glance at Pakistan and Oregon. You might be surprised at just how alike we are!
———————————–
Pakistan: A disaster-prone country threatened by floods, drought and earthquakes.
Oregon: A disaster-prone state threatened by floods, tsunamis and earthquakes.
Pakistan: PRCS Chairman Saeed Ahmed Qureshi is implementing new strategies for disaster management, including identifying disaster-prone areas and building local capacity.
Oregon: OTC Director Eric Corliss is implementing new strategies for disaster management, including identifying disaster-prone areas along Oregon's coast and building local capacity.
Pakistan: American Red Cross Board Chair Bonnie McElveen-Hunter visited the Embassy of the Islamic Republic of Pakistan in Washington, D.C.
Oregon: American Red Cross CEO Gail McGovern visited the "embassy" of the Oregon Trail Chapter in Portland, Ore.
Pakistan: The American Red Cross received the Star of Sacrifice award from (now former) Pakistan President Pervez Musharraf.
Oregon: The Oregon Red Cross received the Bronze Beacon award from OCIABC President Abigail Dougherty.
Pakistan: Rural villages were devastated by a massive earthquake in October, 2005.
Oregon: Rural communities were devastated by massive flooding in December, 2007.
Pakistan: PRCS has restructured national and provincial headquarters to make the society more responsive.
Oregon: ARC has restructured national headquarters and created regional chapters (OTC is one of them!) to make the organization more responsive.
Sure, we'd love to be a little more political and talk about things like corruption and wasted (water) resources, but the reality is that neutrality on all sides is vital to our organization's success. With that said, good luck to the Pakistan Red Crescent Society as they move towards new leadership!
See what the Water Blog posted here and vote with your comments below!