Gay or Straight, Give Blood In Style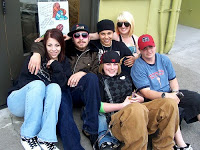 As a design-savvy Portlander, I'm a little ashamed to admit that I've never been inside the Jupiter Hotel. The good news is that you can check it out next week, when we take our next LGBTQ blood drive up E. Burnside.
The Stand Up, Stand Out, Stand Proud drive follows closely after the one we did earlier this summer at the Q Center. Judging by the photos, that one was a success, so we expect nothing less this time around.
Donating a pint of blood is a great way to honor a loved one who is a member of the LGBTQ community and if you're unable to donate, you can always volunteer at a blood drive or help in another way.
And just in case you forgot, all blood collecting organizations operate under eligibility and deferral criteria established by the Food and Drug Administration. There's a great blog about that right here. You can also read our CEO's recent post here.
Stand Up, Stand Out, Stand Proud Blood Drive
Tuesday, August 26
3 to 8 p.m.
Jupiter Hotel
800 E. Burnside
To schedule your appointment, e-mail Carla Moreno or call 503-901-3722. You can also go here and use sponsor code "standup."