Fastest Man Helps China Earthquake Survivors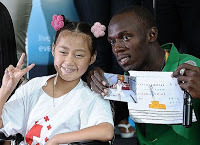 The Olympic games may have come to an end, but they haven't been without a lot of excitement along the way. One of the most impressive feats to come out of the competition is the 19.30 time in the 200 meter race, a new world record set by Usain Bolt. This, just after Bolt set another record two nights before — a time of 9.69 in the 100 meters.
As Renaldo Nehemiah, the former world record-holder in the 110-meter hurdles, says, "It's his anatomy. He's just blessed with an uncanny frame, an uncanny quickness, a huge competitive heart."
Well, now you can add "a giving spirit" to Bolt's list. He's donating $50,000 to the Red Cross Society of China to help with relief efforts following last May's earthquake in China. He also invited six children affected by the quake to visit his home country of Jamaica for the World Beach Sprint competition.
As Bolt said, "This donation is a gift from me to the children who have been victims of the earthquake in China's Sichuan Province. Some of these children have been seriously injured and will never be able to experience the joy of running or even dancing. It is a difficult time for them and I just hope I can help bring a smile to their face."
AFP PHOTO