Roadkilled And Still Running!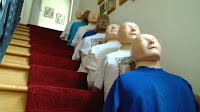 Even though Hood to Coast happened last weekend, it's never too late to share a great story.
As you might recall, at last year's Breakfast of Champions, we handed out an award to a team of people who came to the rescue of Kathy Ryan, an HTC runner who collapsed along the route. Kathy survived, thanks in large part to the CPR training of others.
Recognizing that she was incredibly fortunate to have knowledgeable people nearby, this year Kathy decided to schedule Red Cross CPR training for her entire HTC team — appropriately named Heart 'n' Sole.
And Heart 'n' Sole aren't just any team. They're being followed for Roadkilled and Still Running!, an HTC documentary that we'll hopefully see at Sundance next year. You can see a teaser for the film right here.
By all reports — and I heard straight from Kathy herself — CPR instructor Francisco Ianni did a fabulous job. He brought manikins straight to her home (a special arrangement), did some CPR role-playing and, in Kathy's words, "…was the BEST!" The very photogenic Ianni also got filmed by the documentary crew, so I fully expect talent agents to come calling when the movie hits screens in '09.
Next year, I'd love to see our chapter partner with HTC on a larger scale, getting more competitors trained in CPR and first aid…just in case. In the meantime, if you're interested in getting trained yourself, you can always sign up right here!