Wondering Who Won the BLOG OFF?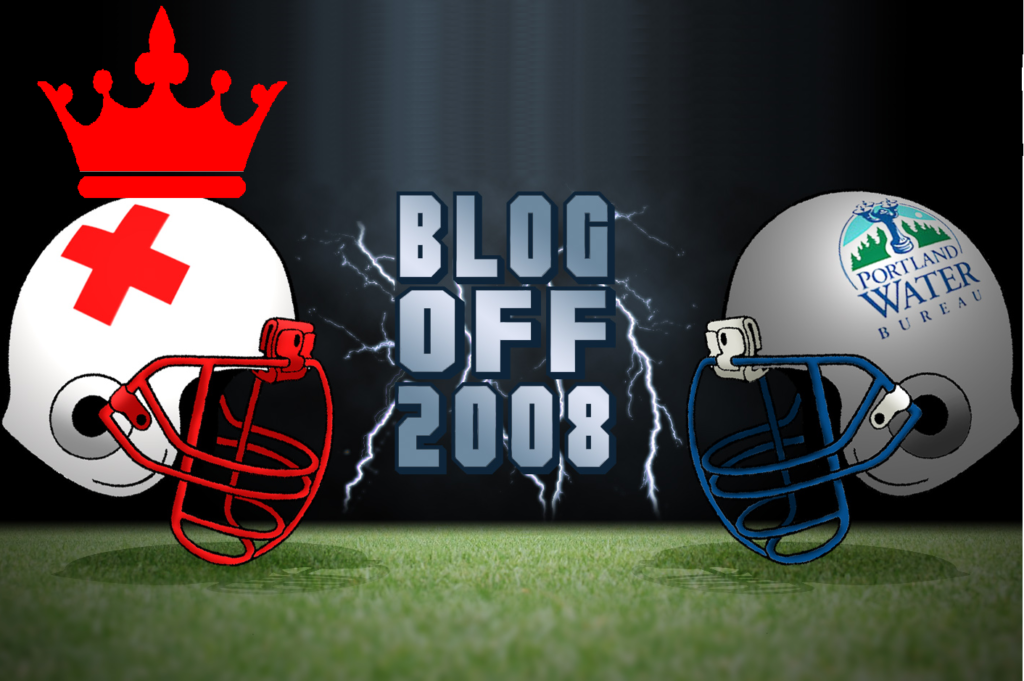 While we've all been twiddling our thumbs in anxious anticipation, our BLOG OFF 2008 moderators (Corey Pein of Willamette Week and Amy J. Ruiz of the Portland Mercury) have been meticulously analyzing each of our BLOG OFF posts.  (To review them all yourself, click here.) They've spent four days on this decision so I guess we can be confident that it is a sound judgement. 
And, you guessed it, WE WON!
Here is the complete analysis from the judges themselves (click on each day's heading to read the post for that day)…
Our very scientific calculations…
Corey: Water, 7. Holy crap, I learned something! Three points off for choppy segue into water bureau propagnda in the final graph. Cross, 5. I learned something here, too—BUT! As anonymous [water bureau?] commenter pointed out, "zzzzzzzzzzz."
Amy: I learned something in both, but corruption totally trumps a largely for-show presidency role. Water by a hair, 7-6. 
Average score: Water 7, Cross – 5.5
Corey: Cross, 8. Great video. Freaked me out. Points off for long-winded setup. Water, 5. Eight points off. I think they did the challenge wrong.The reader was pretty clear about writing a response plan. Three pointsback for freaking me out, too.
Amy: Unless the press release was part of the city's back-end plan for dealing with the crisis (reporters hate spin!), it missed the point of the challenge, so six points off. But Shaff's squeak wins back a point, as does the drowned and eaten security guard. For a final score of 6. I loved the Cross video, and it was an actual response plan. This was the highlight of the week, I thought – a 9. 
Average score: Cross – 8.5, Water – 5.5
Corey: Cross, 6. Boring. Blame this judge. I came up with the challenge. Water, 5. C'mon, a limerick? Blame this judge. I forgot to ban them along with haikus.
Amy: Limericks aren't my favorite, but Water did an admirable job mimicking the Cross tone. A 7. Cross's post made me thirsty, which is a good sign for a "Water Bureau" post. Also a 7. But the Red Cross plug at the end knocks off a point, for a final of 6. 
Average score: TIE! Cross – 6, Water – 6
Corey: Water, 7. Five points off for making me download a PDF. Two points restored for hilarious and true newt facts. Cross, 5. Nice execution, but too cutesy.
Amy: I totally disagree. I laughed out loud at Cross's slideshow, especially the rehash of standing in a door. It was very original, and the use of photos taken just for the challenge was a plus. An 8. I didn't mind Water's use of a PDF (I love that the city's site now hosts a PDF called "Don't Do That!"), either. The toilet tackle photo was a great use of found images. I also liked the advice to "quit stealing our stuff." A 7. 
Average score: Water – 7, Cross – 6.5
Corey: Cross, 8. Wow, I can't believe they actually did it. Deduct two points for mentioning the SAW movies. Water, 7. Valiant effort to meet an impossible (for them) challenge. Points off for rehasing newt, Tabortha jokes. Points back for tweaking the bosses.
Amy: I couldn't watch the entire Cross video (I had to turn it off when the guy fired up the lawnmower), so yes, this is NSFW (or for me). I also give it an 8. Knowing Water's more stringent policies, I was curious what they'd do this this, and guessed they'd do a literal safety interpretation. I'll give them a 6, however—I'm deducting a point for not including a link to a photo of Commissioner Leonard in bike shorts. 
Average score: Cross – 8, Water – 6.5
On a day-by-day basis, it's 2-2-1 (Though we each ended up with 3-2 in favor of Red Cross.)
On a total score basis, it's 34.5 for the Red Cross, and 32 for Water.
And Red Cross wins!
But… it was close. 
Thanks again to our worthy opponents at the
Water Blog
and to our meticulous moderators for participating in this rad challenge.
So…. what do YOU think of the judges' analysis? Would you have scored things differently?