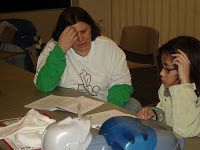 Just got word from the Willamette Chapter in Salem that they're going to be teaching a pretty unusual adult CPR/First Aid course next month….it's all in sign language!
The class will be delivered entirely in ASL and taught by an ASL instructor. All video is close-captioned.
Here are the details:
Friday, Sept. 19
8:30a-12:30p Adult CPR ONLY ($30)
8:30a-3:30p Adult CPR with First Aid ($40)
American Red Cross Willamette Chapter
675 Orchard Heights Rd NW, Suite 200
Salem, OR 97304
You can register online here or send a check, payable to the American Red Cross, to the attention of Jennifer McCormick. Make sure to include a note that it's for the Sept. 19 ASL course.
What a great way to make sure everyone has the opportunity to get prepared…
Photo by Harvey Tillis of an ASL interpreter who volunteers with the Chicago Red Cross