Gustav vs. Katrina: What's The Difference?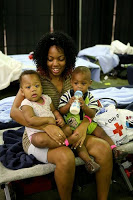 As you can see by our fancy little gadget on the right, there have now been about 82 volunteers from throughout Oregon deployed to help with the American Red Cross response to Hurricane Gustav.
More to come on Gustav later today, but I did want to post a question that I received several times over the weekend…how is the Red Cross doing things differently than during Hurricane Katrina?
The short answer is that the Red Cross is better prepared today to take on a storm of this magnitude because we have better systems in place, more trained workers and more partnerships than we did prior to Katrina.
The longer answer is that:
We have increased the amount of food, cots, blankets, comfort kits and other relief items. These items were already on the Gulf Coast – we don't have to move them in.
We have increased the number of mobile kitchens and feeding vehicles.
We have permanent satellite communication systems in dozens of Red Cross chapters to enable communication in the event of damage to the local infrastructure.
Partnerships with civic groups, the faith-based community and businesses have expanded our reach across the Gulf Coast.
As mentioned before, if you're looking for the latest info on the Gustav response, check the online newsroom. Even though the storm was downgraded right before making landfall, the Red Cross has already provided shelter to nearly 45,000 people in 344 shelters. This certainly isn't over yet.