Haiti and Cuba: What We're Doing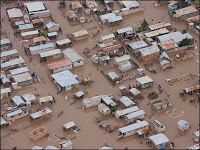 If you're anything like Blake (and own a television), you've surely seen images of devastation in Haiti and Cuba caused by the recent hurricanes. One thing you might be wondering is what the American Red Cross is doing to support our sister Red Cross societies in the Caribbean.
To date, the American Red Cross has:
Deployed three disaster workers to work hand-in-hand with the Haitian National Red Cross Society to assess damages, coordinate the response activities and get emergency relief supplies to the people in need.
Mobilized hygiene kits, buckets, mosquito nets and kitchen sets to Haiti to assist 15,000 affected people.
Sent one disaster worker to the Bahamas to support the Bahamas Red Cross in distributing relief items to families that were affected.
Deployed staff are playing key roles as part of the coordinated International Federation of Red Cross and Red Crescent Societies' response operations. This includes an international disaster worker who is leading the International Federation's Field Assessment and Coordination Team in Haiti.
Meanwhile, the Cuban Red Cross has extensive experience in responding to hurricanes and has thousands of volunteers on the ground helping people affected by the storms. The International Federation also is mobilizing global assistance to further support the response activities of the Cuban Red Cross.
But this part is interesting… When operating overseas, the American Red Cross is required to follow applicable U.S. federal laws and regulations. In regards to Cuba, U.S. citizens and organizations are prohibited from providing humanitarian support for Cuba without authorization from the U.S. Treasury Department. The American Red Cross has applied to the Treasury Department for a special license to provide relief support to Cuba through the International Federation. Only if and when this license is granted, may the American Red Cross accept funds or provide aid for Cuba.
This situation could change quickly — we promise to keep you posted if we hear more.
P.S. Inquiries concerning U.S. citizens living or traveling in Cuba should be referred to the U.S. Department of State, Office of Overseas Citizens Services, at 1-888-407-4747 or 202-647-5225.