Wildfires Growing In Oregon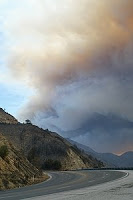 We've been so busy thinking about Hurricanes Ike and Gustav, that it's easy to forget wildfires right here in Oregon. Here's the latest news from the eastern part of our state — you can also see the update from The Oregonian here.
Gnarl Ridge Fire
Late yesterday afternoon, Bobbie Bourne — Emergency Services Director for the Oregon Mountain River chapter — notified us of the Gnarl Ridge Wildfire. A voluntary evacuation had been ordered for a subdivision near Cooper Spur which later turned into a mandatory evacuation for 30 homes. The shelter was not opened last night but the team remains on alert; houses are still at risk and the fire is causing a significant amount of ash fall in Cascade Locks. At this time, they do not know which way the fire is heading.
Royce Butte Fire
The Southern Oregon chapter opened a shelter at the Crescent Community Center staffed by volunteers from the Oregon Mountain River chapter. A mandatory evacuation for approximately 120 homes in the Diamond Peak subdivision and campers from the Crescent Lake campground was issued early last night. Eleven people stayed in the shelter overnight and a local restaurant donated meals. The fire is reported at 600 acres with no estimates on containment. At this time, there are no reports of lost structures.
Eastern Oregon remains on a "red flag warning" due to high temperatures and low humidity. There is a significant concern over today's forecast, with thunderstorms across the region and little or no precipitation combined with winds that drive the fires.
The Oregon Mountain River and Southern Oregon chapters continue to monitor the fires and, here in Portland, the Oregon Trail Chapter (that's us) is on stand-by to provide support if needed.
If you live in these areas, check out our wildfire safety tips.