Pena-Fisher Provides Care In Lindale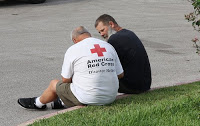 Following yesterday's coverage of an Oregon Red Crosser on NPR, I thought I'd point you in the direction of another one profiled in the Eugene Register Guard.
Stephanie Pena-Fisher is a registered nurse, one of only two nurses tending to about 200 evacuees at a shelter in the east Texas town of Lindale. She arrived in Texas last Thursday and made it to Lindale Friday, just before Ike came ashore.
According to the article, medical problems are relatively few and mild: an ear infection, minor cuts, an allergic reaction to a bee sting. What people most need, Pena-Fisher said, is reassurance and a kind word to help them get by until they see some hope of returning home.
Although this is her first deployment to a natural disaster as a Red Cross volunteer, Pena-Fisher is a veteran of five trips as a medical missionary to countries where daily life is much rougher.
So far, what she misses are the simple things.
"I'd like to see a salad," she said with a laugh. "I haven't seen a salad for days. But I'm not complaining because they haven't, either. I'm just so blessed to be able to serve."
If you're interested in becoming a Red Cross volunteer and potentially deploying to Texas (yes, we can make it happen that fast!), start filling out an application.