Hurricane Ike Families Reunited By Red Cross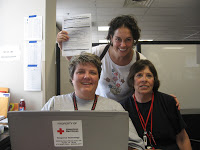 Another update from Portland disaster volunteer (and Blood Services employee) Daphne Mathew:
The American Red Cross Welfare Information Team that deployed for Hurricane Ike is amazing! The welfare team offers one of the most important services available to families during a disaster relief operation. Their job is to reunite loved ones who have been separated during a catastrophe.

It was just one day post-Ike landfall when the team hit the ground in Galveston,Texas; searching door-to-door for missing residents. Worried family members called the Red Cross to report they could not reach family members, and in each case, the loved one had special needs.

Four people were reported missing and all four were located the first day. Two of the four that were rescued had to be medically evacuated. The evacuees may not have survived if it were not for this dedicated team.
Welfare Information works closely with the Safe and Well program. So far, they have had tremendous success, bringing 46 families back together! With strong leadership in place, they are working diligently to find the remaining nine that have gone missing. The stories are inspiring and what a great feeling it must be to provide this meaningful service.

A report came in from a doctor in Galveston, that a wife – who was absolutely distraught – could not find her husband. With eyes and ears on the ground, it only took one day for the husband and wife to be brought back together.

Another call came from a military member in Iraq who said she could not reach her husband in Pasadena, Texas after the hurricane. Our Welfare Information service worked with American Red Cross Service to the Armed Forces (SAF) and the husband was located. A message is now on the way to his wife that all is safe and well.
The work that the Red Cross is doing in Texas happens only thanks to generous donations from the American public. Please consider making a gift to help these families get the supplies and support they need to begin rebuilding their lives.