Some Volunteer Appreciation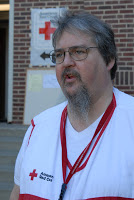 If you've been following the numbers on the blog (off to your right), you'll see that we're at about 186 Oregon deployments related to Hurricane Season 2008. Of those, about 167 relate to Gustav and Ike.
To give you a sense of just how incredible these disaster volunteers are, I thought I'd pass along a story from Victoria, our staffing guru.
"On Sunday, our team leader called asking if we had any shelter supervisors to help out in Florida ("Florida??" I said), where they still have 300 Fay clients in a shelter and needed shift supervisors. I called three of our experienced volunteers to see if they would help out. Two agreed to go if needed and the third had some meetings she couldn't miss, but Friday looked good.
It later turned out that Florida only needed two people, so I was asked if I could send volunteer Mike Redlin to Texas ("Texas??" I said), where help is still needed. Mike thought Texas sounded fine if he could drive an ERV (emergency response vehicle). He will fly out on Tuesday.
The reason I tell this story is to make a point about our volunteers. All three of the people I called are just recently back from the hurricanes, two in Louisiana and one in South Carolina. These volunteers were willing to take a deep breath, gather their resources and go out again. These are truly amazing people and it is a privilege to be associated with them."
Here, here, Victoria! Volunteers are the heart of the Red Cross; they make all we do possible. We're so fortunate to have a terrific team here in Portland — if you want to become a part of it, find out more here.