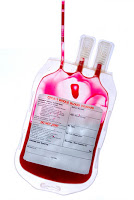 It's hard to get me to pick up a paper copy of The Oregonian, much less leaf through all the advertising inserts to pull out Parade magazine. Fortunately, Barb D. in our office is a lot less lazy than I am…thanks to her eagle eyes, I bring you this article about 8 Ways To Stay Healthy.
Why is this important? Because author Dr. Mark Liponis' number one suggestion was to give blood. Here's what he had to say:
"About 5 million Americans require blood transfusions every year, and there is always a need for blood. Yet it's estimated that less than 10% of eligible donors actually give. The good news is that donating blood also may make you healthier.
In a recent long-term study of more than a million Scandinavian blood donors, giving blood was found to be linked with a lower risk of cancers (liver, lung, colon, stomach, and throat) in men, with risk dropping as blood donation increased. Blood donation also may reduce the risk of heart disease in men, although it's not yet clear why this may be true. And there's no harm in women giving blood, either. You'll also get a mini-checkup when you give blood, since you'll have your blood pressure checked, and you'll be interviewed about your health history.
What could be better than helping to save a life while improving your own health in the process?"
Now if that doesn't convince you to donate blood, I'm not sure what will. Go ahead; sign up now.