Testing First Aid Skills in Hungary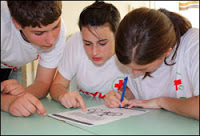 Today's a bit of an international day on Cross Blog. Robin's going to bring you the latest updates from Joseph in Hopetown (have you been playing?) and I have some interesting news from other Red Cross societies around the world.
First up, a national first aid competition!
The 37th annual competition brought together 540 of the best volunteers trained in first aid skills from 19 Hungarian counties and Budapest, as well as four international Red Cross teams from Croatia, Poland, Romania and Serbia. The first aid skills of participants were tested in real life simulations and theoretical tests.

Said Nedmira Salibasic from the Croatian Red Cross team, "It was amazing how well the whole event was organized, the simulations were so real that they made us believe that it was real life. It was new for us to practise our different language skills and sometimes develop our body language to be able to act like a person in a dangerous situation."

Organizers hoped to enter the Guinness Book of World Records with the largest number of people demonstrating the first-aid technique of applying bandages. On the final day of competition, a 'forest' of 540 bandaged arms stretched up in the air.

"We want this event to be registered in the Guinness Book of World Records to draw more attention to the importance of first aid in today's world," said David Kovacs, head of the Hungarian Red Cross youth programme. "We all know that our life is full of risks, incidents and disasters, and in this environment, first aid matters a lot."
I love the idea of a first aid competition, world record or no. Also, I bet you didn't know that World First Aid Day is the second Saturday in September…I didn't know it myself, but you better believe that next year, Robin and I will be all over organizing something to celebrate it. Feel free to share your ideas!
P.S. I can't read it, but I think the official competition page is here.