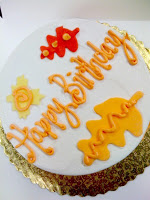 Once you get a week past your birthday you assume you're safe from all surprises, right? 
Wrong.
My team somehow found out that my birthday was last week, so today at our staff meeting they threw me a surprise vegetarian lunch complete with cake from
my favorite cake shop
. 
I totally didn't see it coming. Thanks, guys!