Helping Military Families Cope With Deployments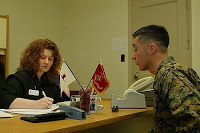 Did you know that Oregon is one of only 16 states (plus Washington, DC) to offer the Red Cross' new Coping With Deployments: Psychological First Aid for Military Families course?
The course was developed in collaboration with Disaster Services and subject matter experts from the Department of Defense, and its goal is to provide military families with resources on how to deal with the stress of deployments, especially for those families who are living away from a military installation. Here in Oregon, that's often the case.
Part of the reason I tell you this is because Bob Porter, one of our disaster mental health volunteers, stopped by my office minutes ago. He is one of only two people who were selected for a special "Train the Trainer" session at national headquarters and now he's prepared to teach the course in other states and/or mentor other approved volunteers as they teach the course.
As I type this, Bob and Laura Fields (of the Joint Family Support Assistance Program) are meeting to determine when and where the first classes will be held. This should be a very rewarding new venture — stay tuned!
P.S. Just to be clear, this course is not offered to the general public, nor should it be taught to service members or veterans alone without family members present. Family members include those who self identify as spouses, children, parents, siblings or significant others of the servicemember or veteran.