Trouble the Water Comes to Portland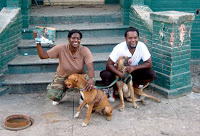 What do you have planned this weekend?
If you've got nothing on your agenda, you might be interested in stopping by Cinema 21, where Trouble the Water — an award-winning documentary about Hurricane Katrina — is playing.
When I read the Willamette Week's review, I noted that the film's producers met their subjects in a Red Cross shelter. That meeting was fateful; Kimberly Roberts and her husband Scott had extensive footage of the storm as it happened, taken on a handheld from an attic in New Orleans' Ninth Ward.
According to the article, the producers ditched their original outline and took on the Robertses' story, relieving the couple of camera duty as they blended Kimberly's clips with their own and extended the scope of the Robertses' coverage, following them to a family home in Memphis and doubling back to New Orleans.
The film sounds powerful, heart-breaking and well worth seeing. It also won the 2008 Grand Jury Prize at the Sundance Film Festival, so it's bound to get big attention. We might try to organize a team film night; if you see it, let us know what you think.
Want a sneak peek? Here's the trailer: