Volunteer Gives 7,000 Hours to Red Cross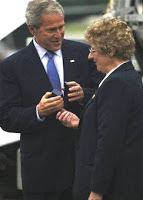 Volunteers: If you totaled up how many hours of your life you've spent working on behalf of the Red Cross, what would you get? A couple hundred? A thousand? More?
Well, Eileen Hadbavny has spent an impressive 7,000 hours of her life volunteering for the American Red Cross, which is why she was just honored with the President's Volunteer Service Award.
Eileen has been a Red Cross volunteer for 20 years in both the Montgomery-Floyd Chapter (Blacksburg, VA), and the Carolina Lowcountry Chapter (North Charleston, S.C.). A nationally registered Red Cross nurse, she serves as the Lowcountry Chapter Health Services lead, helping ensure volunteers are properly trained in Disaster Health Services. Elaine also serves as the Health Services Representative for the Disaster Action Team, and is chairman of the Services to Armed Forces and International Services Committee. She provides annual deployment and hurricane briefings to military members and their families.
As Eileen says, "I came to the Red Cross because I believe in the fundamental principles that the Red Cross follows of serving humanity not just nationally, but internationally, as well."
Congrats Eileen — what an honor!