Don't Leave Home Without Your Documents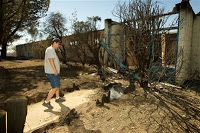 If you've been following the news about the California wildfires, you might have also seen that Governor Schwarzenegger has signed an executive order to waive fees for replacement documents for fire victims.
In short, this means that the half a million people who had to evacuate and leave behind state-issued records can get them replaced without (as much) difficulty.
California will replace birth, death, marriage and divorce records for free. The state Department of Motor Vehicles will also waive fees for drivers' licenses, car registrations, and other vehicle records. The governor's order also waived the waiting period for unemployment assistance: people who live in fire-affected areas can immediately start collecting unemployment.
If you don't live in California, this is still an important reminder. Be ready in case you ever have to evacuate your home by putting together a "grab and go" box of important documents, like state-issued records, financial and insurance information, and a photo or video inventory of your belongings.
A while back I found this great link that really lays out what types of documents you should have ready to go. Check it out.
AP Photo/Damian Dovarganes