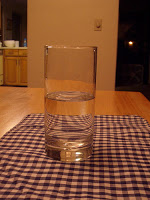 Are you a "glass half full" or a "glass half empty" person?
I'd say that I'm the former; somewhat of an eternal optimist. So when I saw the news that the Red Cross Campaign for Disaster Relief has reached the $50 million mark, I thought to myself, "Yay! We're halfway there!"
On the other hand, I could have just as easily said that we have a long way to go. And we do. There's another $50 million needed before we reach the $100 million campaign goal. And that, my friends, is a lot of moola.
2008 has been a busy year, with Midwest floods, California wildfires and hurricanes along the Gulf Coast. In fact, our chapter still has three Oregonians deployed for Hurricane Ike relief efforts.
So if you've got money burning a hole in your pocket, STOP, DROP and ROLL (hee!). But if you've got money that you just want to give to a good cause, think of us.
With your help, the glass could be all the way full in no time.
Photo courtesy of Jeff Youngstrom