Send Me Your Questions For Portland Rain!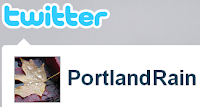 PortlandRain (yes the actual weather phenomenon) is now Twittering. Yesterday I said I'd ask it for an interview, and it has graciously accepted (since it seems to have some unexpected free time lately). 
So…if you have anything you'd like to ask PortlandRain, post your questions in the comments! I'll be interviewing it on Monday.