New Donor Center Opens In Clark County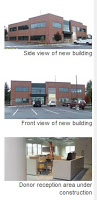 Our friends down in Blood Services have had some exciting news — they've just opened a brand new Blood and Platelet Donor Center in Clark County!
The new location has more space for whole blood, platelet collections, and forthcoming double red cell collections. There's also a modernized café-style canteen, children's play area and wireless connectivity.
So as you head out to do some holiday shopping at the Westfield Vancouver Mall, look for the new center just to the west and stop by to save a life.
5109 NE 82nd Avenue
Vancouver, Washington