David Hasselhoff Comes Out Of Our Closet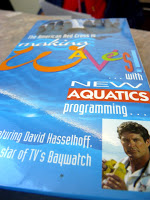 It's moving day.
Well, for our storage closet anyway. We're consolidating space so we spent this morning sorting through
decades
of accumulated 
stuff
. 
We're almost done, but I wanted to take just a second to share with you our
most
rad
find among the stacks of old VHS tapes – a treasure of a video entitled, 
The American Red Cross is Making Waves with New Aquatics Programming Featuring David Hasselhoff, Star of TV's Baywatch
.
See? The Red Cross
is cool
. At least the Hoff thinks we are anyway…