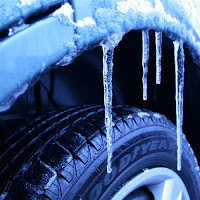 Just because it's cold outside doesn't mean the number of housefires goes down.
In fact, with wood-burning fireplaces, festive candles and flammable holiday decorations, winter is actually our busiest season.
But the fact remains that when it's hard for YOU to get around in the snow and ice, it's also hard for our disaster volunteers.
The good news is that those committed volunteers can use Oregon Trail Chapter vehicles like our Yukon, purchased for just this kind of inclement weather. They also chain up their personal cars and head out…very carefully. And when they can't get somewhere — for example, one volunteer in Columbia County was asked to remain in place — they still work hard to make other arrangements for clients, including hotel space.
So when you're sitting at home and making every effort to avoid icy roads, think about our volunteers and how they're willing to brave the elements just to help other Oregonians in their time of need. All without pay; just the simple reward of knowing they're doing good work.
THANK YOU, OTC VOLUNTEERS!
Photo courtesy of Cayusa