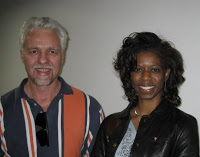 Jean Loomis wasn't going to lie about it; she was scared, really scared to donate blood for the
first time
. A victim of her own anxiety and imagination, she admitted that she had built the experience up in her head—a giant, cartoon-size needle violently jabbed in her veins to extract buckets full of blood.
Jean's experience was far less frightening than she had imagined: "I feel totally fine," she told me after her donation, "and I survived to tell others that it's really not that bad!" Her biggest concern now? Where to eat to get her energy back! Chinese or Mexican for lunch? Tough call.
Although Jean was nervous to give blood, she was motivated to do so by good-will and a little peer pressure. Jean's sorority, Delta Sigma Theta, which places emphasis on supporting the African American community, challenged its members in the Portland area to donate blood this month in honor of Black History Month.
Although ethnicity does not necessarily determine blood compatibility, African-Americans sometimes have subtle differences in red blood cell proteins, increasing the likelihood that a suitable blood donor for a recipient will be someone with a similar ethnic background. Sickle cell disease, for example, is an
inherited disease
that requires regular blood transfusions. It affects about 72,000 people in the U.S. and is especially prevalent in African Americans. African American blood donors are often the best match for other African Americans with
sickle cell disease
.
This Saturday, February 28, the Red Cross center in Portland (3131 N. Vancouver Avenue) will host a blood drive in honor of
Black History Month
. Members of various African American associations in the community, including Phi Beta Sigma Fraternity, Zeta Phi Beta Sorority, Alpha Kappa Alpha Sorority, Delta Sigma Theta, and the Kaiser African American Association have called their members to action to help save lives by donating blood at this drive.
Regardless of your ethnicity, call 1800 GIVE LIFE or visit
nwblood.redcross.org
to make a blood donation appointment. Help save lives and honor the history of the African American community! Before you leave, check out this video about
Dr. Charles Drew
.
Photo Left: Edwin Loomis Right: Jean Loomis