Disaster Response In The Form Of Snuggles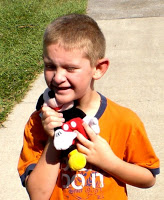 Did you ever lose something you loved as a kid?
I did. When I was six my
Snuggle bear
was stolen, and I was
devastated
. I can't begin to imagine how I would have felt if I'd lost my
whole home
to something like a fire, flood or tornado.
I would have needed something snuggly to hug and to hold. Something soft and cute. Something familiar – like Mickey Mouse.
Ahh, perhaps you see what I'm leading up to here. Yes, for the fourth year in a row,
The Walt Disney Company
is providing us with plush toys to give to kids recovering from disaster – like the little boy pictured above who our coworker, Ronda, met while responding to Hurricane Ike last year. See that big bear hug? One Mickey Mouse can go a long way toward healing a heart.
Thanks, Disney!