10 Reasons To Volunteer While Job-Seeking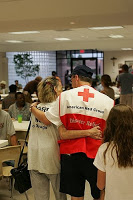 We all know where things stand with the economy at the moment. Here in Oregon, the outlook is grim, with a 9.9% unemployment rate for the month of January.
When you're committed to job-seeking full-time, volunteering any extra hours might not seem feasible. But it might actually be the very best time to give it a shot.
Thanks to blogger Tara Mason, here are 10 reasons why you should volunteer while looking for a job:
10. To learn about a cause.
9. To gain new perspective.
8. To keep active.
7. To maintain a sense of camaraderie.
6. To try something new.
5. To give your life routine.
4. To network.
3. To learn new skills.
2. To boost your confidence.
1. To give back to your community.
Tara has a lot more to say about each of these reasons, so I'd encourage you to read the entire post.
If this convinced you that volunteering while job-seeking could be a great opportunity for all involved, consider helping us out here at the Red Cross. We need all kinds of volunteers, from drivers to designers. Keep your skills sharp; volunteer with us!