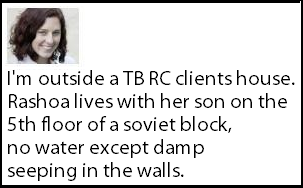 I planned to mention this in my Worldwide Wednesday Wrap-Up this week, but then it totally slipped my mind. 
British Red Crosser, Mandy George, is visiting Red Cross projects for people with tuberculosis in Kazakhstan and Kyrgyzstan this week – and she's
tweeting her experiences
.  I've learned a lot from reading her up-close-and-personal accounts so far.