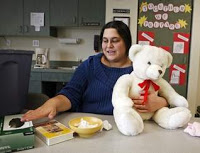 Amber Marshall Parker saved a 4-year-old girl's life.
How'd she do it? She took a Red Cross babysitting course when she was in middle school and when a child started choking, she knew just what to do.
Now that little girl is 14 years old. And Parker has gone from student to teacher, training Oregon middle school students in the babysitting skills that save lives.
You can read the whole article here. Pretty cool when life comes full circle, no?
Photo courtesy of Timothy J. Gonzalez, Statesman Journal