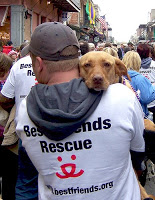 We've talked before about the importance of preparing your pets for disaster (see here, here and here). Now, I'm pleased to report that the Red Cross is taking a big step forward in partnering to protect your furry loved ones.
We just recently signed a more formal Memorandum of Understanding with the American Veterinary Medical Association (AVMA) and the American Veterinary Medical Foundation (AVMF). The orgs have been working together for years, but this will allow for even more collaboration.
So how will the MOU actually make a difference? In short, there will be more local programs developed to help families prepared for the unexpected. The programs receive funding through AVMF grants and the AVMA will act as a technical adviser on all animal and veterinary aspects of disaster-response efforts.
One very cool example of this plan in action is what's happening in Chicago. That Chapter has been working with AVMA to address a common problem following house fires: temporary housing for pets. Together, they're creating a network of local veterinarians that would house the animal victims of a fire. Once it's up and running, it will hopefully be duplicated around the country…maybe even right here in Oregon.
While our priority is people, there's no doubt that pets need assistance during disasters. I'm happy to see the Red Cross working so diligently to make a difference!
Post-Hurricane Katrina photo, courtesy of Barbara Pritchard/FEMA