Stylishly Storing Your First Aid Supplies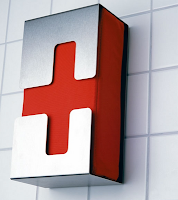 So you've taken your Red Cross first aid class. You've purchased a first aid kit. Now where to store it?
Blogger and organizer Jeri shared six options for supply storage, many of which I quite like. My design-y side particularly loves the stainless steel version from Radius, which is so classy it could almost be used as art.
From a tin with the flavor of France to one that's made out of tomato paste drums, you're sure to find something that will work for your needs!