Senate Passes Serve America Act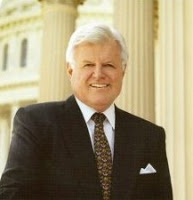 Today the Edward M. Kennedy Serve America Act was passed 78-20 by the Senate!
What does this mean? Well, here is a quick view of SOME of what the Kennedy Serve America Act will do:
Expand opportunities for people to serve at every stage of life.
Use service to meet specific national challenges.
Put service to work to solve our most pressing challenges, such as:
Tackling the dropout crisis and strengthening our schools.
Improving energy efficiency; safeguarding the environment.
Improving health care in low-income communities.
Expanding economic opportunities for low-income individuals.
Preparing for and responding to disasters and emergencies.
For full coverage of this bill, please visit The New Service; a Blog by former American Red Cross Oregon Trail Chapter; Clara Barton Vista Corps Team Leader, Amy Pothast.